Foobar2000 best audio player. New version 1.3.5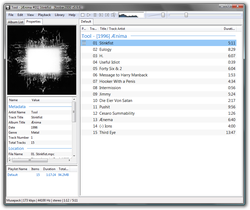 Foobar2000 (source:foobar2000.org)
Foobar2000
is an advanced freeware audio player for the Windows platform.
Some of the basic features include full unicode support, ReplayGain support and native support for several popular audio formats.
The program can edit song tags (album and song name, number, year, etc.) based on the FreeDB Internet database and even rename the original songs based on these tags.
Select "Portable installation" and choose the destination folder.
Foobar2000 download